It goes without saying that Vancouver Body Massages are getting more and more popular with the passage of time and people are now fully acquainted with the benefits of Vancouver Body Massage. It is important to point out here that there is a number of people who still believe that massage is a luxury and this is exactly why they are not aware of its real benefits. Therefore, Vancouver Foot Massages are also considered to be one of the primary ways to reduce the pain in the lower extremity edema. Nonetheless, there are so many benefits of Vancouver Massages that can ameliorate any person's lower extremity edema, even during pregnancy. Vancouver Foot Massages are considered to increase blood circulation which allows cells to carry nutrients to the deficient parts such as the lower leg edema to help it reduce.
It is important for us to talk about or in general learn about the basic concept of edema that usually occurs in the lower extremity, i.e; legs. Edema is a condition normally found in senior citizens but it can also be found in any person of any age but rarely. The primary reason why edema happens is that excess fluid in the legs, ankles, or feet causes swelling which can be extremely painful and uncomfortable. But, at the same time, there are plenty of diseases that can result in Edema as well. Such as:
● Diabetes
● Heart Failure
● Varicose Veins
● Rheumatoid Arthritis
● Lymphedema
Just like it has many conditions that result in edema, there are also many options that can provide relief. The best way, however, is to Massage than go for medications that usually result in harmful side effects.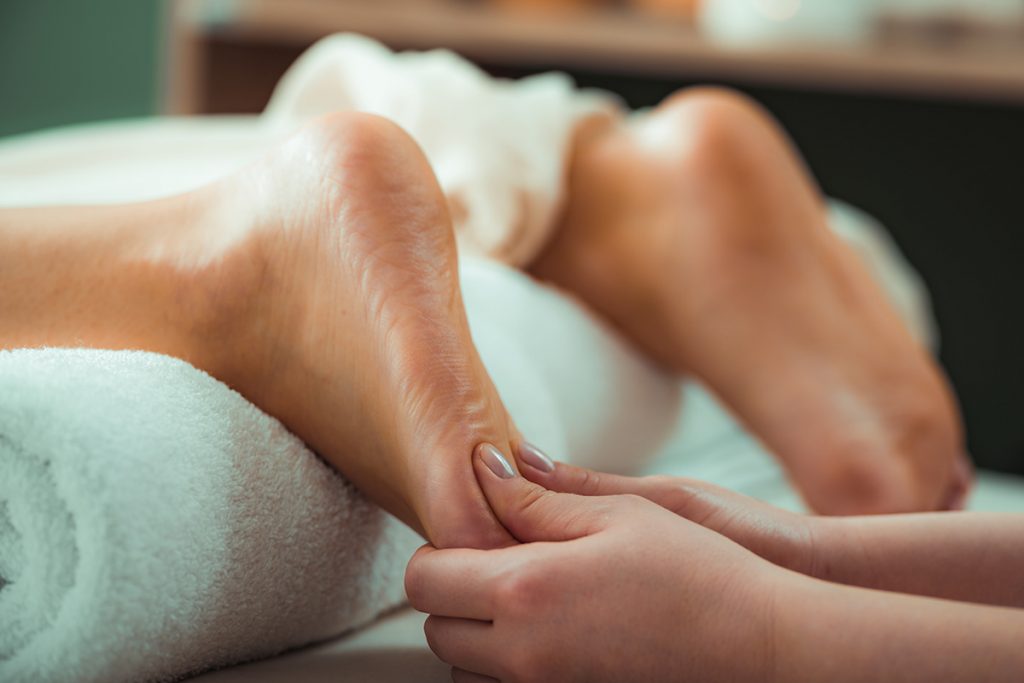 Since it is evident that Vancouver Foot Massages can be an effective way to mitigate the discomfort of patients with edema. This should also be kept in mind that the Massages should be undertaken by professional and skilled Massage Therapists. The Massage Therapists apply proper methods to put pressure on the swollen area in order to guide fluid out of the swollen leg. But, it is important to note that a Vancouver Foot Massage is not painful which is done by our professional Massage practitioners. If you want to achieve edema relief, Vancouver Foot Massages are the best way to do so.
Edema can be painful and frustrating and possibly a symptom of a greater issue at hand. This is why, to address the issue, we believe that going through some Vancouver Foot Massages, the lower extremity edema can be provided with effective relief by reducing the fluid which is a buildup in the legs, ankles, and feets usually caused by the excessive fluid and understand what it needs to calm the edema so you can be on your feet again.
So don't waste your time. Get rid of the edema through our highly professional and skilled massage therapists. Book now your full Vancouver body massage from www.bigfeet.ca. The practitioners and the therapists in the Big Feet will provide everything that you need to make you feel better and help in providing complete relief from pressure and pain.